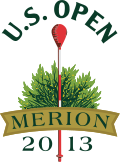 I just texted my US Open pick to the KJR Ketel One Major Championship Golf contest. KJR AM is the local talk radio station in Seattle. This contest consists of picking the winner in the four major golf championships. The winner of the contest wins a trip to play Pebble Beach in August. The US Open is the second leg of the majors. I was fortunate enough to pick Adam Scott in The Masters, so I'm 1 for 1 this year along with about 200 others. In previous years, correct picks in two majors has one the trip. (There is a tie breaker system dealing with your picks in the majors where the winner wasn't picked.) With the one correct pick, all of a sudden I'm taking the contest a bit more seriously.
The obvious pick is Tiger. Close to half of the entries at The Masters were for Tiger. However, picking Tiger puts you in a tie with too many people. As such, I'm going with a less obvious pick, Dustin Johnson, but still someone who isn't a real long shot to win. Dustin hasn't won a major, but has been close a couple of times. I hope that experience helps. Merion isn't as long as recent Open courses, so Johnson's length isn't the advantage it is normally. Hopefully, his short game and putter will be working and he'll have a great week!
The only thing that will really hurt in the contest is to have Tiger win without picking him. So, good luck to the rest of the field.