Day one of the drive from Iowa City to Redmond is in the books. Due to some logistical items, I didn't get as early a start as I anticipated. Even so, traveling with the sun, I was able to get about 12 hours on the road today. I don't anticipate on making too many stops to see the sites on the journey, but a couple of things stood out today: Wall Drug needs to be open later and Mt. Rushmore is worth the side trip.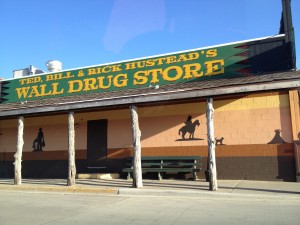 When driving any extended distance in rural states, you come across places that start advertising on billboards hours before you get to them. Wall Drug is one of those places. After entering South Dakota heading west on I90, I quickly started seeing the signs. They advertised everything from bobble head dolls to roping shows. While crossing the state, it appeared that Wall Drug had everything one could ever want or need. It was getting late in the day as I finally approached Wall, SD. I thought a quick check of Wall Drug and dinner was in order. After making a few turns, there it was, right on main street! The place was huge. Unfortunately, it was also closed. I arrived into Wall right at 7:00 PM. Wall Drug hours of operation; 7:00 AM – 7:00 PM. (The signs didn't mention that…) While I'm sure the folks at Wall Drug know their market, I'd think being open an hour or so more at night would bring in more business than those early AM hours. The Corn Palace in Mitchell seemed to be the other big advertised attraction in South Dakota. I came across Mitchell much earlier in the day, but only stopped for gas there. I guess I should have spent my time at the Corn Palace rather than holding out for Wall Drug.
UPDATE: The Wall Drug web site reports their current hours as 7:00 AM – 8:00 PM. I just got there too early in the season!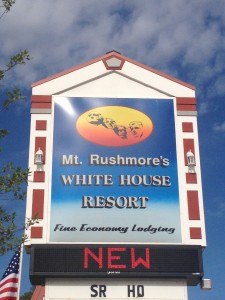 After a quick dinner in Wall, I continued on to Mt. Rushmore. There is a bit of a bate-and-switch in getting to Mt. Rushmore. I took the advertised exit from I90 followed the signs through town and then came across a sign stating 28 miles to Mt. Rushmore. Bummer! At this point, I was committed to seeing it so I drove on. It was getting dark, so I was ready to call it a day either way. I drove and found a motel (White House Resort, $50/night) in Keystone. Keystone seemed like a fun little town to spend a day, but that wasn't my plan. When I asked the folks at the motel about getting to Mt. Rushmore and its hours of operation, they informed me of a night lighting going on that night. I decided to attend that so I wouldn't have to take the time in the morning.
The ceremony consists of a video about the presidents carved into the mountains, the actual lighting of the presidents and the introductions of veterans in attendance. I arrived a bit late and missed Washington on the video but thought the overviews of Jefferson, Lincoln and Roosevelt were well done. The actual lighting slowly lit the mountain from darkness to full illumination while patriotic music played in the background! I thought that was a nice way to see the mountain.
I was glad I was able to see Mt. Rushmore tonight rather than having to take an hour or more in the morning. Even though it was around 60 miles (round trip) out of the way, seeing Mt. Rushmore was well worth the effort. I'm not sure if or when I'll ever be back this way again.